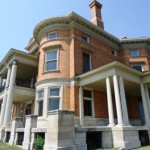 The iconic "Overview Mansion" at 412 W. 6th St., presently for sale, is in contention for a Doory Award.
The Doory Awards are sponsored by HGTV and Zillow.com, and are a celebration of unique homes for sale across America. There are 20 categories. "Overview" was nominated for "DIY Dream Home". The home will also be featured Fri., May 3, 2013 on Ch. 8, WQAD Tv 10 pm news.
The public has a chance to be part of the voting process. Anyone can go online and vote once per day. Here is the link people can go to to vote: http://www.frontdoor.com/doory/diy-dream-homes. Winners will announced in June. Hopefully this increase in exposure will bring the right buyer!
For further information on this property, see Available Properties.